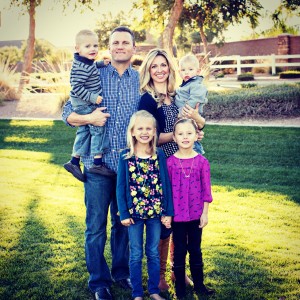 Hi! I'm Kim. I am a stay-at-home mom to four beautiful and exhausting little people: Ava, Ella, Dallin, and Jack. I am also married to a pretty awesome person named David. I love reading books until the wee hours of the morning, writing journal entries, blog posts, and random bits of poetry, and sometimes I do yoga in my closet – which is usually the only quiet place in my house. I am also pretty Type-A and I am addicted to charts. I am constantly trying to devise a better system for doing anything and everything. I time myself every time I unload the dishes and once I attempted to catalog all of the toys in the kids'  playroom (**nerd alert** ). I also happen to be a Mormon. My faith influences every aspect of my life, most especially the way I strive to parent.
But writing is my very favorite pastime. It's a creative outlet, and I think all moms need a creative outlet in one form or another. So I'm setting out on a yearlong quest to become a more peaceful person – as a mom, wife, and member of my community – and I'm documenting that journey here.
Care to join me along the way?